As an idiosyncratic guitarist/composer, guitarist Jacq Palinckx (Tilburg, 1959) often moves with humor on the interface between improvised music, avant-rock and composed music. In addition, there is interaction with his visual language in the form of collage-like graphic novels and films full of suspense. In 1992 he won the Dutch Podium Award.
Gitarist Jacq Palinckx (Tilburg, 1959) beweegt zich als eigenzinnig gitarist / componist vaak vol humor op het raakvlak van geïmproviseerde muziek, avant-rock en gecomponeerde muziek. Daar komt de interactie met zijn beeldtaal nog bij in de vorm van collage-achtige graphic novels en films vol suspense. Hij won in 1992 de Nederlandse Podiumprijs.
plea for the unknown
pleidooi voor het onbekende
"interventions no one expects"
interventies die niemand verwacht

starring artist portrait 04:
jacq palinckx
text notes:
tehatex tilburg *)
originated in 1978 as a sub-training for teachers of drawing, crafts and textile work forms
and was part of the academy for visual arts education (founded in 1918)
spanish guitar *)
also called classical guitar and is an acoustic string instrument with resonant sound box /
founding father of guitar making: antonio de torres jurado (1817 – 1892)
renaissance *)
literally means: rebirth and indicates the revival of classical antiquity / it is the period after
the Middle Ages that started in Italy (1300, florence)

music school tilburg *)
originated in 1869 and since 1908 known as the tilburg music school; nowadays known as
factorium for music, dance and music theater

electric guitar *)
guitar that does not work on the basis of a resonance box, but on the basis of electrical
signals that are converted into sound by the amplifier / first recording 1937 with jazz
guitarist eddie durham (1906 – 1987)

lp *)
is a long playing record with a diameter of 12 inches / 33⅓ revolutions per minute

composition *)
musical piece (score) laid down in musical notation including instrumentation and
orchestration

improvisation *)
the spontaneous creation or devising of music and sound concepts on the spot

bert palinckx *)
double bass player and brother of jacq palinckx

palinckx & palinckx *)
both brothers Jacq and Bert started this band around 1980 and changed the name to
'palinckx' for short; played together with various musicians from the classical world and
ended about 2008 / 2009 as a more or less alternative rock band
han buhrs *)
singer han buhrs (1955) developed a singing technique with two microphones in which his
voice interact with electronic effects / buhrs became increasingly interested in
improvisation and became among other things vocalist in 'palinckx'

dj dna from the urban dance squad *)
arjen de vreede became a dj when he was 17 and co-founded the dutch band 'urban
dance squad' / after that he became among other things a member of 'palinckx'

guus janssen *)
is a dutch composer, pianist and harpsichordist who led his own ensembles, ranging from
pianotrios to a 11 piece band and opera orchestra since the early 1980's / he received the
boy edgar award in 1981 and collaborated in varied line-ups with jacq palinckx c.s.

rené jagers and 3-ons *)
tilburg's experimental theater company (1984 – 2013) directed by rené jagers / the
company also acted as a production studio in which jacq palinckx was also involved

pand 7090 *)
is a collaboration of jacq palinckx as 'person in residence' with the trio 7090 consisting of:
koen kaptijn, nora mulder and bas wiegers / these three dutch musicians are at home in
both contemporary composed and improvised music

fringe festival amsterdam *)
this experimental festival is based on the famous and successful fringe festivals as they
exist in, for example, edinburgh, adelaide, new york and delhi / there are now more than
250 fringe festivals all over the world

marieke franssen *)
is a dutch bass flutist and regularly interweaves electronic sounds in her performances

yvonne van de pol *)
as a dutch violinist known as yvonne van de pol (or vaya linn) she plays solo on small and
medium-sized stages as well as in all possible line-ups with big names, bands and DJs for
stadiums full of people

henry's void *)
song written and performed by the dutch singer han buhrs

graphic novel *)
is a long-form, fictional work of sequential art (graphics)

vlek *)
is a collective of dutch musicians with their roots in improvised music, jazz and alternative
rock music, founded in 2009 during a session on the tilburg music stage 'paradox' /
members: jeroen doomernik (trumpet), edward camel (alto and soprano saxophone, alto
clarinet), hans sparla (trombone, accordion), bart van dongen (electric piano, synthesizer),
jacq palinckx (electric guitar), bert palinckx (double bass), thomas jaspers (drums)
jan van den berg *)
as an independent documentary theatre- and filmmaker he creates work in the borderland
of performing arts and science / in 1985 co-founder of theater adhoc (nl)
credits:

projects shown:

triggers / triggers scene 7 / triggers epilogue 2 defect

film & music / performance jacq palinckx
viola yvonne van de pol

if i had possession over judgment day /

words & music robert johnson
vocals han buhrs
programming luc houtkamp
grooves d.n.a.
dobro jacq palinckx
grand hotel by vlek
location: jazz in duketown festival (den bosch 2021)
composition jacq palinckx
vlek
alto sax edward capel
trumpet jeroen doomernik
trombone hans sparla
guitar jacq palinckx
keyboards bart van dongen
bass bert palinckx
drums pascal vermeer
streaming video hans timmermans
hand camera crista vlems
sound rikkert brok
re-editing and remix jacq palinckx

palinckx live in ljubliana – 'arms in doubt'

location ljubliana slovenia (2002)
composition jacq palinckx
lyrics han buhrs
guitar jacq palinckx
turntables dj d.n.a.
double bass bert palinckx
drums alan purves
palinckx & asko ensemble – 'beethoven meets mr. bones'

composition jacq palinckx (2000)
lyrics han buhrs
performed by
voice han buhrs, joop van brakel, david eeles
guitar jacq palinckx
double bass bert palinckx
drums alan purves
akso ensemble
violin jan-erik van regteren altena
viola rogier van de tak
cello doris hochscheid
flute fernande veldhuisclarinet
clarinet arjen woudenberg
french horn wim timmermans-
harp ernestine stoop
organ, harpsichord rené eckhard
percussion stef gerritse

enantiodromia excerpts / zelfportret bal (selfportrait ball)

concerto for digital piano and visuals jacq palinckx
enantiodromia excerpts presented at studio loos the hague (2022)
6 x maximal music for bass flute and (electric guitar) related electronics
composition jacq palinckx (2016/17)
bass flut marieke franssen
audio recordings bernard jussen – tafelberg studio tilburg (2018)
film / visuals 'grand collage' jacq palinckx.

henry's void

location live in bratislava slovakia (2001)
film, visual, composition and remix jacq palinckx
text han buhrs
performance by
voice han buhrs
guitar jacq palinckx
turntables d.n.a.
double bass bert palinckx
drums alan purves
video portrait 04 jacq palinckx
camera and video editing: tom pijnenburg
research, editorial, text titles: jan doms
translation: jan doms
leader:
graphic design: jan doms
opening sequence: pieter reijnen & tom pijnenburg
sound: aspa petrov – prefuse 73 dvořák
ernst bonis – composition taksim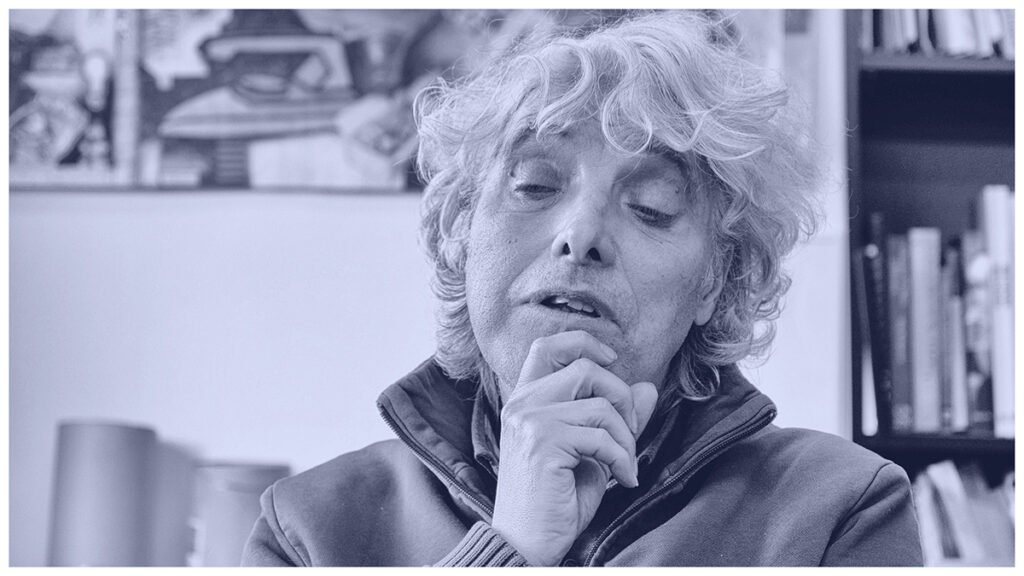 video portrait 04 jacq palinckx is made possible by:
production and distribution: internationals art channel foundation
tilburg – heart of brabant
the netherlands
video portrait 04 art © channel 2023
www.int-artchannel.nl