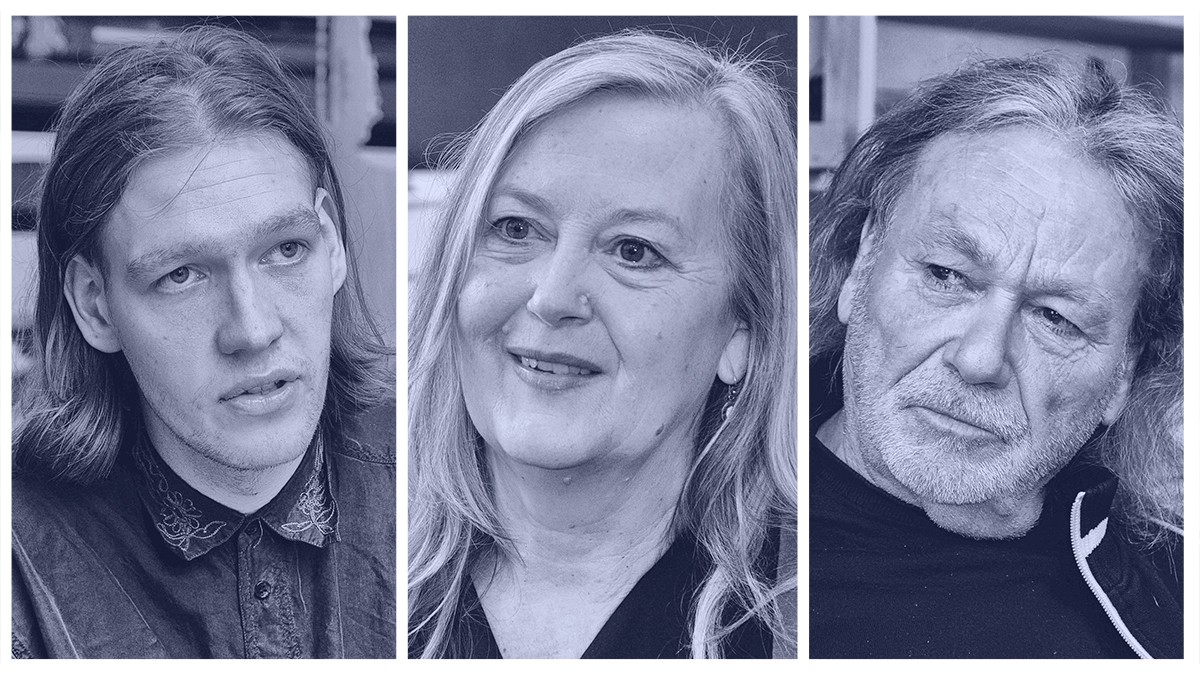 Cinecitta Tilburg – Hall 1
30 november 2023 – start 19:30 h
premiere evening of the fourth series of three artist video portraits
Host Peer de Graaf provides the introductions
Screening portrait 10: Mark van Hoek, visual artist
Screening portrait 11: Ilse Vermeulen, costume designer
Screening portrait 12: Ad Roefs, architect
Free admission | reservation is recommended
[email protected]
Mark van Hoek – visual artist – fashion designer – 'sculptor'
Mark van Hoek, involved in 'the New Eccentrics' among others, is currently staying for several months at the renowned Düsseldorf Art Academy as a guest student. He sees that stay as part of his intensive quest, in which experiences and contacts in the field of materials and techniques, as well as elements related to everyday life, form the basis.
Ilse Vermeulen – costume designer
Ilse Vermeulen is currently in charge of the costume atelier at Zuidelijk Toneel. In her career, she worked as a costume designer for theatre, opera, film and dance productions, such as for the companies 'De Wetten van Kepler', 'Matzer Theaterproducties', 'Het Volksoperahuis', 'Theater Artemis' and, last but not least, for Paul and Menno de Nooijer 'The Laughing Cow' (VPRO).
Ad Roefs – architect
Ad Roefs worked as an architect for OD205 and Jo Coenen & Co, among others, and has been an independent architect since 2003. In Tilburg, he designed the Silence Centre on the Tilburg University campus. He is also active in the field of interior and furniture design, designing exhibitions and in collaboration with artists in the development and implementation of artworks in public spaces.
Free admission | reservation is recommended
[email protected]
Cinecitta Tilburg – Zaal 1
30 november 2023 – aanvang 19:30 u
première-avond van de vierde serie van drie kunstenaars-videoportretten

Gastheer Peer de Graaf verzorgt de introducties
Screening portret 10: Mark van Hoek, beeldend kunstenaar
Screening portret 11: Ilse Vermeulen, kostuumontwerper
Screening portret 12: Ad Roefs, architect

Gratis entree | reserveren is gewenst [email protected]
Mark van Hoek – beeldend kunstenaar – modeontwerper – 'beeldhouwer'
Mark van Hoek, onder andere betrokken bij 'de Nieuwe Zonderlingen', verblijft op dit moment voor enkele
maanden op de befaamde Kunstacademie Düsseldorf als gaststudent. Hij beschouwt dat verblijf als onderdeel van zijn intensieve zoektocht, waarbij ervaringen en contacten op het vlak van materie en technieken, alsmede elementen die verband houden met het dagelijkse leven, de basis vormen.

Ilse Vermeulen – kostuumontwerper
Ilse Vermeulen zwaait op dit moment de scepter over het kostuumatelier van het Zuidelijk Toneel. In haar loopbaan werkte ze onder andere als kostuumontwerper voor theater-, opera-, film-, en dansproducties. zoals voor de gezelschappen 'De Wetten van Kepler', 'Matzer Theaterproducties', 'Het Volksoperahuis', 'Theater Artemis' en niet te vergeten voor Paul en Menno de Nooijer 'De Lachende Koe' (VPRO).

Ad Roefs – architect
Ad Roefs werkte als architect voor o.a. OD205 en Jo Coenen & Co en is sinds 2003 zelfstandig architect. In Tilburg ontwierp hij het Stiltecentrum op de campus van de Universiteit van Tilburg. Daarnaast is hij actief op het gebied van interieur- en meubelontwerp, het ontwerpen van tentoonstellingen en in samenwerking met kunstenaars betrokken bij de ontwikkeling en uitvoering van kunstwerken in de openbare ruimte.
Gratis entree | reserveren is gewenst [email protected]