Ad Roefs worked as an architect for OD205 and Jo Coenen & Co, among others, and has been an independent architect since 2003. In Tilburg, he designed the Silence center on the Tilburg University campus. He is also active in the field of interior and furniture design, designing exhibitions and in collaboration with artists in the development and implementation of artworks in public spaces.
Ad Roefs werkte als architect voor o.a. OD205 en Jo Coenen & Co en is sinds 2003 zelfstandig architect. In Tilburg ontwierp hij het Stiltecentrum op de campus van de Universiteit van Tilburg. Daarnaast is hij actief op het gebied van interieur- en meubelontwerp, het ontwerpen van tentoonstellingen en in samenwerking met kunstenaars betrokken bij de ontwikkeling en uitvoering van kunstwerken in de openbare ruimte.
plea for the unknown
pleidooi voor het onbekende
"modesty in architecture"
starring artist:
ad roefs

text notes:

nursery school*)
is an learning space offering early childhood education to children before they begin compulsory eduction at
primary school

rembrandt*)
rembrandt van rijn (1606 – 1669) is considered the most important dutch master (painter, etcher) of the 17th century.
his works such as the 'nachtwacht' (night watch) are world famous.

jo gijsen*)
jo gijsen (1943 – 2017) was an visual artist from eindhoven (nl) who, after a motorcycle accident in 1971,
developed particularly as a stone sculptor.

mts construction engineering*)
tilburg secondary technical school for construction and engineering.

academy of architecture*)
originated in tilburg in 1957 as a split from the academy of visual and building arts. currently part of the fontys school
of the arts – master's degree in architecture and urbanism.

state exam in architecture*)
the state exam in architecture gives access to the registration register for architects. then you become an officially
recognized architect who is allowed to practice the profession of architect.

od205 in eindhoven*)
this architectural firm was founded in 1938 by van emden. the name od205 refers to the address in delft. in 1994,
the office split into an architecture office and an urban planning and landscape office. the current od205 stems
from the latter and is now based in rotterdam.

silence center*)
the official name of this unique building (1972) – designed by ad roefs – is the zwijsen building and adorns the
campus of tilburg university. in 2005 the building was named after bishop joannes zwijsen (1794-1877), the most
famous clergyman in tilburg history and symbolizes reflection and philosophy of life.

uvt tilburg*)
the tilburg university was founded in 1927 as the roman catholic commercial college. it was the first university
institution in the south of the netherlands. the university comprises five faculties, including economics, law,
sociology, humanities and theology.

jo coenen*)
architect jo coenen started his architectural firm in eindhoven in 1980 and settled in maastricht ten years later.
he designed the new concert hall in tilburg, for which ad roefs acted as project architect. he subsequently
expanded with offices in berlin (1999), luxembourg (2002), amsterdam (2002), milan (2007) and finally in bern (2012).
in addition to various professorships abroad, he also fulfilled the role of leading architect at national level in
the netherlands.

nai*)
from 1993 – 2013 the nai building in rotterdam (designed by jo coenen), was an national archive, museum,
library and cultural stage in one. important archives and collections of dutch architects from after 1800
were preserved in the nai and made accessible to the public.
since 2013, the nai building, has been home to 'het nieuwe instituut' ('the new institute'), the merger organization
of the nai, premsela, netherlands institute for design and fashion and virtual platform, knowledge institute for e-culture.

knsm island amsterdam*)
the knsm island (1903) is a man-made island in the eastern docklands of amsterdam. knsm stands for the royal
dutch steamboat shipping company which used to have its headquarters and its docks on the island. later it
merged with other companies into lloyd, finally leaving the island in 1977. during the 1980s, squatters, artists, and
urban nomads occupied the area. it is now a large residential area containing modern architecture with a mostly
well-off population.

concert hall tilburg*)
concert hall tilburg dates from 1996 and was designed by jo coenen (project architect ad roefs).
in 2005, the building was expanded for the fontys school of the arts, which emerged from the catholic courses
tilburg, the brabant conservatory, the brabant dance academy and the academy of architecture.

hilvaria studio's*)
the old hilvaria studios were built in 1964 as a film studio. later the studio was also used by directors of erotic
films such as the kronhausen couple and lasse braun. in 1974, part of the building was used as a sound studio
(relight studio) where famous names recorded their albums. since 1991, hilvaria studios has been restored and
expanded and used as a venue for conferences and art with exhibitions and special projects.

stichting straat*)
since 2003, 'stichting straat' (street foundation) has been organizing cultural events that focus on tilburg streets,
neighborhoods or city areas. attention is paid to architecture, heritage, monuments, history, nature, details in
the street scene and the experience thereof.

city museum*)
plans to establish a municipal museum in tilburg date back to the 1920s. however, all kinds of objects were
collected for a future museum related to the textile industry, painting, ancient and ethnological objects.
the eventual city museum don't have its own building but notwithstanding that it develops all kind of museum
activities such as a time lab, in collaboration with the library, vincent's drawing room, etcetera.

art comrads*)
art comrades is an ongoing project initiated by the cultural canteen foundation. artists and young people are
temporarily linked together to collaborate over a period of approximately six months in the artist's studio or
in the studio of the cultural canteen in tilburg.

efteling*)
the roots of the current attraction and amusement park in kaatsheuvel (north brabant, netherlands) date back to
anton piek (1895 – 1987), best known for his romantic drawings with lively scenes from an idealized
nostalgic past, designed the famous fairytale forest (1952) as the heart of the park. later many attractions
were added to the present day.

sabin rape of the virgin*)
the sabine theft of virgins is a roman myth about the founding of the city of rome. the story is about the mass
kidnapping of women by romulus. after this heinous act, the romans and the sabines, instead of starting a war,
settled their differences so that the city of rome could continue to grow.

ernest potters*)
photographer / photojournalist ernest potters (1953 – 1922) worked for national music magazines such as 'oor'
and 'hitkrant', 'jazz now' and for various national daily and weekly newspapers. he also photographed the work
of visual artists and for dance- and theater companies and related. he meant a lot to the tilburg art and culture
as initiator / inspirer of, 'the dance house', 'space-x' for artists, 'l'avontura' and publisher's house 'telexpress'.
the exceptional book about the famous track cyclist jan pijnenburg known as 'the cannonball' forms a special
element in his oeuvre.

bedaux*)
'bedaux' here means the architecture that is characteristic for jos. bedaux (1910 – 1989) and for the architectural
firm 'office bedaux' that he founded, later continued by his sons and then with jacques de brouwer under the name
'bedaux de brouwer architects'. grandson thomas currently holds sway. a highlight is still the main building of
tilburg university. in 2022 they received the national award for 'best architect of the year'.

bossche school*)
the 'bossche school' is a traditionalist movement in dutch architecture, based on the ideas of dom hans van der laan,
in which space and balanced proportions play an important role.

credits illustrations / animations
shown by ad roefs

'boule' (2010)
design and realization: ad roefs
exhibited in: hilvaria studio's in hilvarenbeek

'maaw-muur' (2016)
project in public space tilburg
design: miranda poel
development and realization: ad roefs

living room table:
desin and realization: ad roefs

mathematical triangles
assembled compositions: ad roefs

painting: ad roefs
from the series 'ciel flamand' (flemish skies)

graphic: ad roefs
from the series 'construction'

observation tower 'de reuselhoeve' moergestel (2014)
principal: reuselhoeve
architect: ad roefs
engineering: archimedes – eindhoven

stairs (2015)
part of exhibition: 'ctrl + alt + del' in nature area '13 hectares' heeswijk
desin and realization: ad roefs
camera and montage: rudi klumpkens

pictures landscape: ad roefs

wooden figures ('dancers'): ad roefs

round panel with wood assembly: ad roefs

structure beach zoutelande – zeeland (2015)
photo's: ad roefs

extension of house in tilburg
architect: ad roefs

model velodrome (2003)
design and creation model: ad roefs
initiated by: ernest potters

model villa santa eulalia des rui, ibiza 2021
design and creation: ad roefs

villa boszone (forest area)
design: ad roefs

house oostelbeers (2016)
design: ad roefs

multi-tenant office building oisterwijk (2001)
design: ad roefs – architectural firm storimans

silence center – campus tilburg university (1993)
design: ad roefs – architectural firm od205 delft-eindhoven
film registration: tom pijnenburg

concert hall tilburg (1996)
design: jo coenen
project architect: ad roefs – jo coenen architects & urbanists (jcau)
photo: Wikimedia Commons Camiel Coenen

naiad – sky punch collective (parade den bosch 2021)
floating dance performance installation on a mirrored cliff
celine werkhoven & anna zurkirchen
composer: antonio alemanno
in collaboration with architect ad roefs

trans luv airways – wilhelminapark tilburg (2023)
design and construction: ad roefs
collaboration with eritrean youth
part of art comrades
film registration: tom pijnenburg

animation film 'secret dancer'
art comrades (2018)
wooden figures ('dancers'): ad roefs
photografy: anna dlugosz
animation: anna dlugosz supported by goof salimans

various wooden objet trouvé
found and presented (in the out- and indoor studio) by: ad roefs

model / composition: piece of wood sticking through glass panes
designed and created by: ad roefs

short film: shadow cycling (2017)
ad roefs c.s.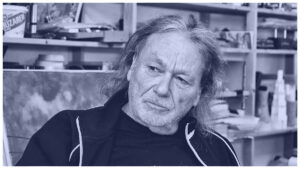 video portrait 12 ad roefs
camera and video editing: tom pijnenburg
research, editorial, text titles: jan doms

leader:
graphic design: jan doms
opening sequence: pieter reijnen & tom pijnenburg
sound: aspa petrov – prefuse 73 dvořák
ernst bonis – composition taksim

music end credits: music composed & performed by antonio alemanno
www.antonioalemanno.com

video portrait 12 ad roefs is made possible by:

het cultuurfonds
lef urban dynamics
gilaworks
production and distribution:
internationals art channel foundation
tilburg – heart of brabant
the netherlands
video portrait 12 art © channel 2023
www.int-artchannel.nl